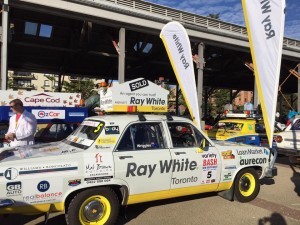 This May, Paul Wrigley from our office participated in this year's NSW Variety Bash, raising over $15,000 for Variety – The Children's Charity.
The Variety NSW AHA Bash is not a race or a rally. It's an adventure with mates driving pre 1976 cars through regional parts of NSW that you might otherwise not see, all in support of Variety – the Children's Charity. The Bash is for those with a sense of humour and adventure, who love cars and don't mind getting a little dirty and most importantly those who want to help make a difference to the lives of Aussie kids in need.The 2016 Variety NSW AHA Bash travelled over 2700km through regional NSW making over $40,000 worth of pledges to rural schools and families with sick or disadvantaged children. All up the 2016 Variety NSW AHA Bash raised over $850,000!
Here is a wrap up from Paul:
Well what a week it was.
What a special thing to be able to do and to help so many people
85 cars participated in the week with people coming from all different areas and backgrounds but all with 1 common goal………. Helping those kids that are less fortunate than ourselves. Everyone got dressed up in a range of costumes so the kids were excited when Mickey and Minni mouse and a few Clowns and Scooby Doo and some of the Avengers all turned up and gave out gifts and had photos taken etc.
there were about 300 people all up including many officials that donated their time. One volunteer has a week off work and drives the photography crew around. He doesn't get paid at all.
Safety crew and breakdown crew are all volunteers and did a great job of organizing the week and ensuring we all make it through the week. A big congratulations to these officials on a great week.
We visited 11 schools and donated $45,000 in a range of items ranging from iPads, soft fall for their playground, football goals for their oval, sporting goods etc.
3 schools we visited had previously received donations from variety that allowed them to buy a 20 odd seater bus to help transport the kids to different events that otherwise they wouldn't have been able to attend being so remote.
One "basher" with long hair had his head shaved by Super Hubert (super Hubert is a skinny magician and not a hairdresser let me say!! Lol) and we all put in and raised $1,400 approx to variety.
Super Hubert would stay back at each school and do one of his shows twice a day which the kids loved.
Super Hubert even did an adults only show for us one night and he has released a rap song. A Very generous and talented man bringing smiles to kids faces for many decades.
The highlight of the week was seeing a few "special needs" kids that have received in the past and received last week some grants or donations to help them
Variety donated a few thousand dollars to one girl confined to a wheelchair in Forster that hasn't been to the beach so they can now buy a wheelchair that is capable of going on the sand.
Another family received money to pay for an air conditioner to keep the temperature at home consistent as their son has an illness that if his temperature and surrounding climate isn't consistent he can become really sick
One fellow "Basher" donated his helicopter and his time to follow the bash route. Variety would then auction off two flights a day for anyone wanting to travel the morning or afternoon flight. These flights were bought for prices between $800 and $1,500 which was donated straight to variety. The mug of the week did go to the chopper pilot as he landed his chopper on the school oval at Grafton public school where we were all having a lovely cooked breakfast where we all ended up covered in dust. All the cars, the kids, my white suit lol and our cooked breakfast got covered.
At Marra Creek Public School there are 6 kids so the chopper pilot took the 6 kids for a joy flight over their own property and the smile on their faces was amazing
We have raised nearly $15,000 in a 6 week period which I am very happy with. I now have 12 months to raise more money so I look forward to any help or suggestions from any of you that want to help or get involved
Total tally as at Saturday night from the whole week was about $850,000 which is one of the highest amounts raised in the 25 year history of Variety- The Children's Charity.
I highly recommend anyone interested in donating money and driving remote parts of NSW to get involved
If you want to get involved with Variety you can do this without doing the Bash week
Thanks again to everyone that helped me raise money and I hope you enjoyed watching the trip!
Cheers
Paul wrigley
Ray White Toronto
For more photos of Paul's adventure, please check out our Facebook page.